German architects Karl Bengs put his hand to renovation of the "Kominka"
at Shimomaki-village in Niigata.
Karl Bengs House offers happy and valuable
life with mountain and sea
Niigata-prefecture Joetsu-city Kakizaki-district Shimomaki-village, there is the foot of Mt.Yoneyama which has been known as one of the three major pharmacist mountains in Japan from long time ago. Not only magnificent sceneries of mountain, but also you can enjoy beautiful views of the Sea of Japan after driving for only 15 minutes. Therefore, Shimomaki is the best place to have a good time with both mountain and sea.
Recently, a Japanese old-fashioned house was renovated by Karl Bengs. Karl Bengs is one of the famous German architects in a field of renovating Japanese traditional house, and actually his past performance was highly evaluated.
A new sophisticated "Kominka"(renovated Japanese old-fashioned house) and the only one wonderful environment are waiting for you to start slow living at Shimomaki-village.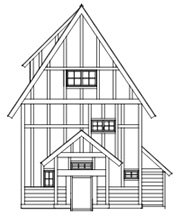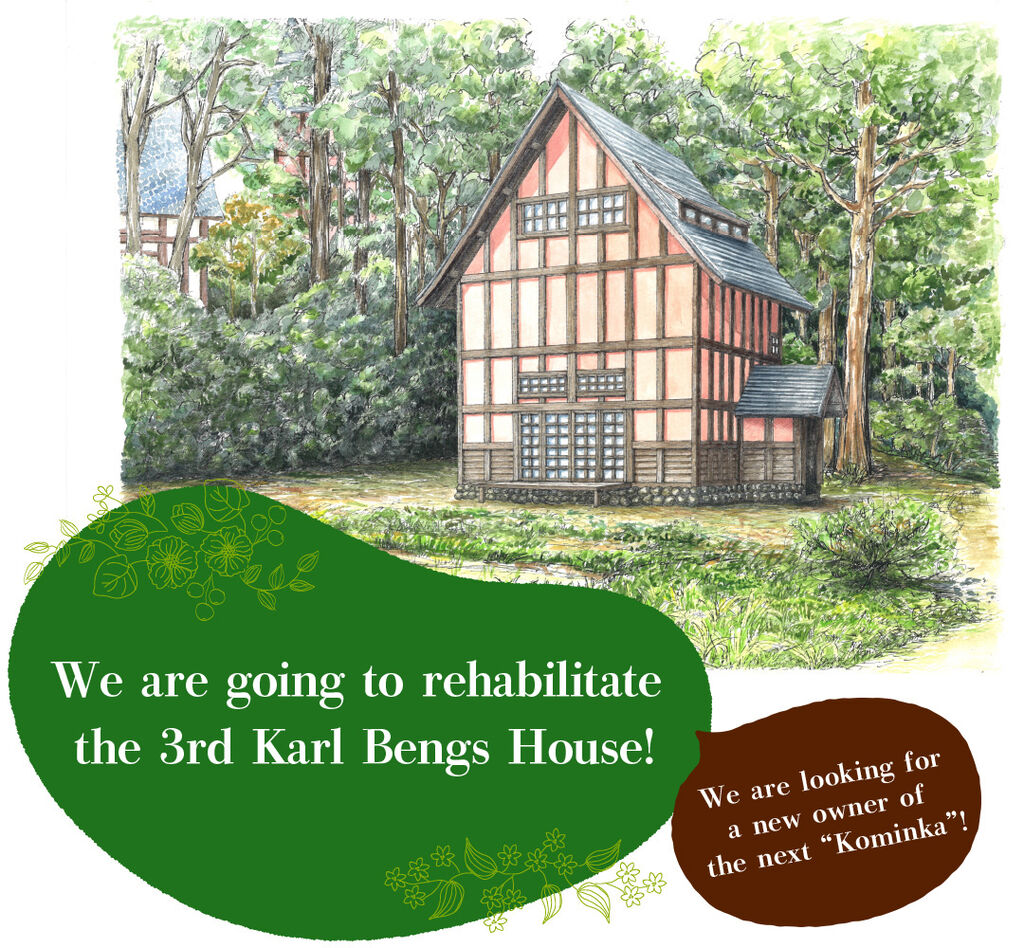 We are now accepting applications for the renovation of the 3rd Japanese traditional house by Karl Bengs, following the 2nd Karl Bengs House "KUBO". As there are no more Japanese traditional houses in Shimomaki-village that can be renovated, this time will be a rehabilitation by relocation from a neighboring village, but you can incorporate your wishes from the design stage. For example, your own colors, your own floor plan, etc. Let's enjoy a new village rich in diversity together with us.
Let's create
your own Karl Bencks House!
Examples of Karl Bengs House created by renovating Japanese traditional house
Karl Bengs House's
reference price is 40 million yen and up
*Including the building and land price
Please feel free to contact us
for more information.
New owner of the 2nd Karl Bengs House
"KUBO" has also decided!
Preparations for rehabilitation underway!
New owner of the 2nd Karl Bengs House "KUBO" has also decided!
Preparations for rehabilitation underway!
An American couple is going to move into the Karl Bengs House "INABA", and preparations for the 2nd Karl Bengs House "KUBO" are currently underway in the same Shimomaki community. The new couple has already decided to move to "KUBO", and we are looking forward to the birth of their new Karl Bengs House.
Karl Bengs House "KUBO" is awaiting revitalization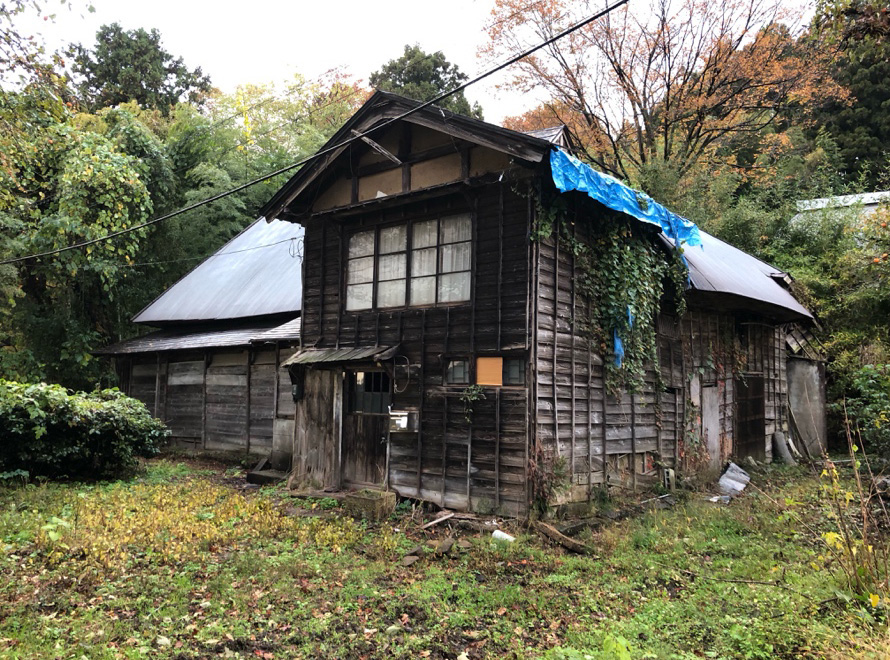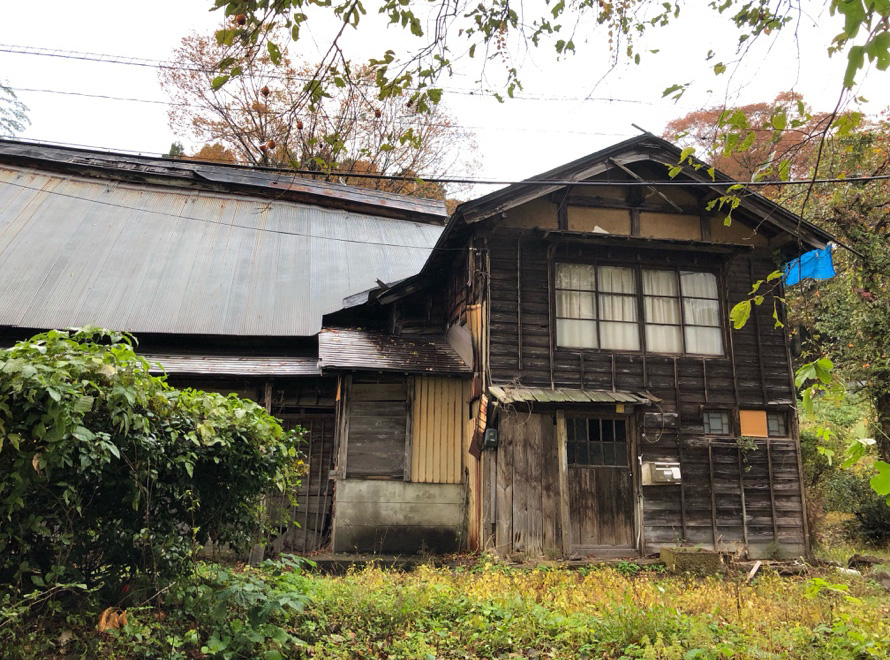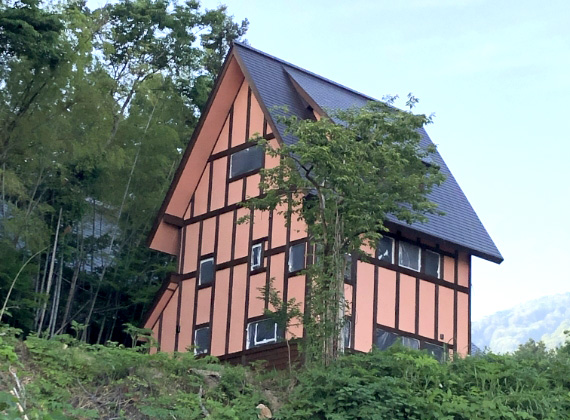 The magnificent mountains stretch as far as the eye can see
Where Karl Bengs house stands is quite outstanding in the village in terms of heights.
You would be satisfied everyday by looking over the grand view of the mountains in Myoko ahead of widely spread rural landscape. Those sceneries can be seen from all of the windows locate on the southern side of the house.
Furthermore, Shimomaki-village locates on firm ground, so you do not have to worry about any impact of earthquakes.
The stunning and vivid colored modern "Kominka" stands out in the "Satoyama landscape"
The house has an impressive ambience of Japanese old architectural style. At the same time, a vivid colored appearance which is peculiar to Karl Bengs's performance shines out in the rich nature.
Its color and shape have changed drastically compared with the former house, but the house utilized renewable pillars and beams that are a couple of hundred years old. Moreover, steep rafter roof top reminds you a unique Japanese architectural style "Gassho-zukuri", and skylight on the roof top let you wake up pleasantly every morning.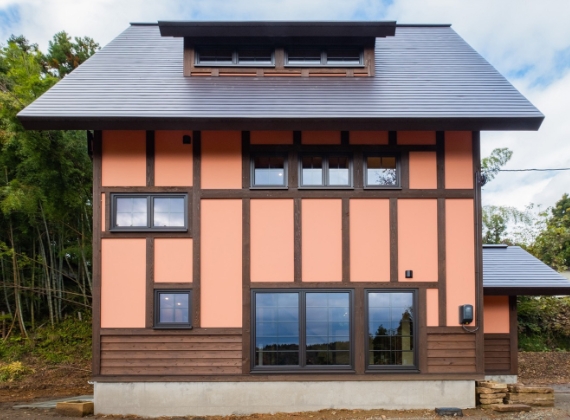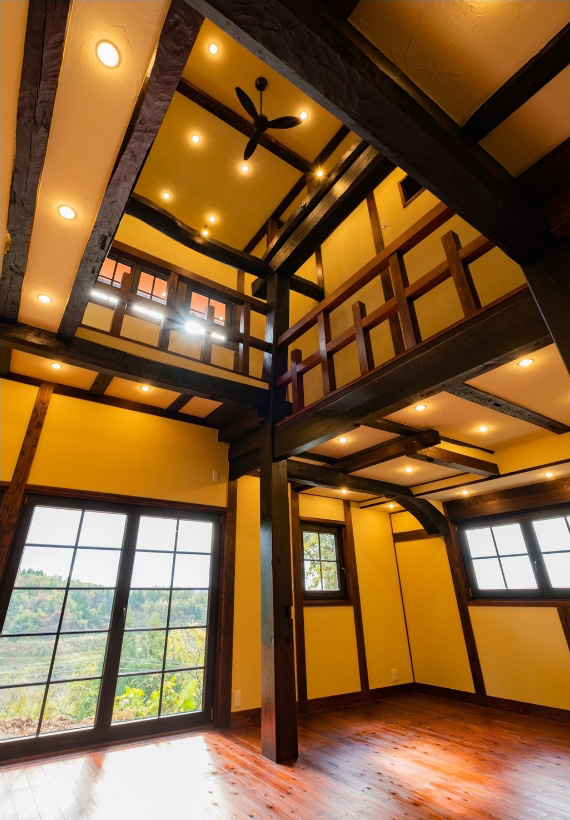 A skillful blend of old-fashioned and modern architecture produced a new value
On a way of reviving "Kominka", Karl Bengs does not focus on just rebuilding a house but also he thinks that to make go well with a modern life is important. Therefore, he made its insulation 10 times thicker and introduced floor heating system in order to spend comfortable life in a cold district.
These great advantages of both old-fashioned and modern house give you a fresh impression which you have never gain from looking at the other buildings.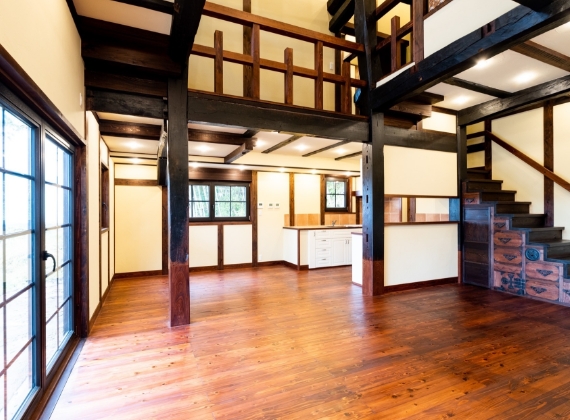 The majestic view from a bathroom shows you a transition of the seasons
One of the outstanding points on the design of this house is a bathroom installed on the second floor.
From a large window facing front-south, please enjoy the color transition of a mountain and a field with the season changing.
From the window facing front-west when soaking in a bath, you can see the Kubiki plain and the Sea of Japan. Please have a relaxing time and warm your body at a bath, seeing a night view of Naoetsu & Takada and many lights of squid-fishing vessel on the sea.
Old wooden beam on a ceiling and Italian made tiles take you to the extraordinary comfortable and cozy mood.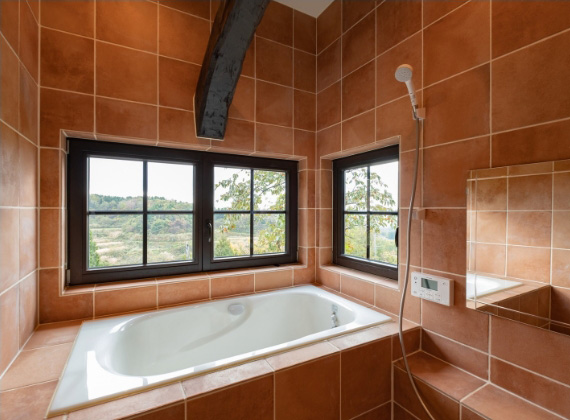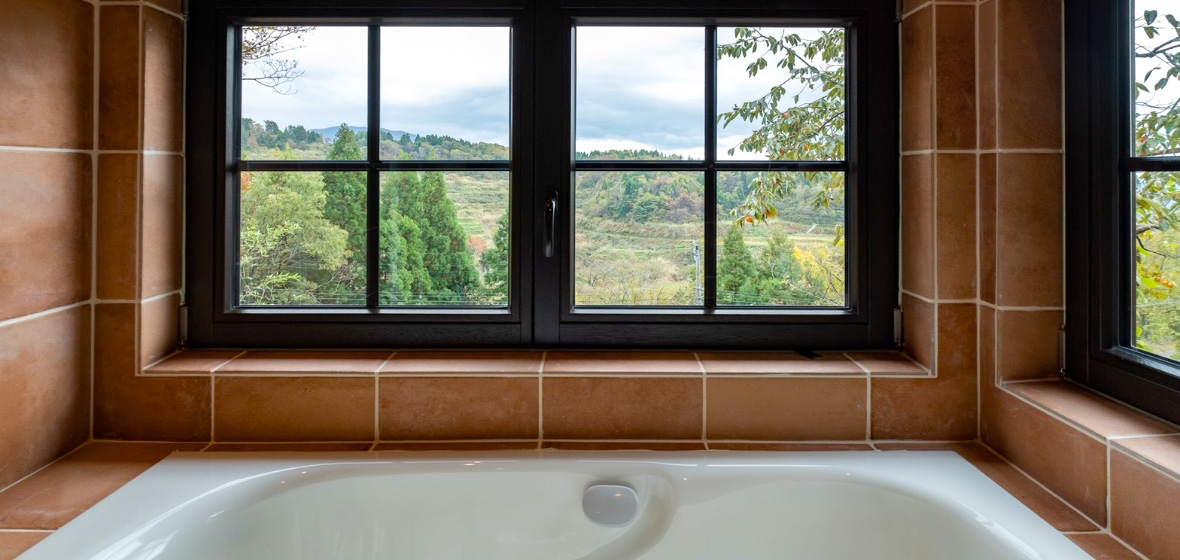 ---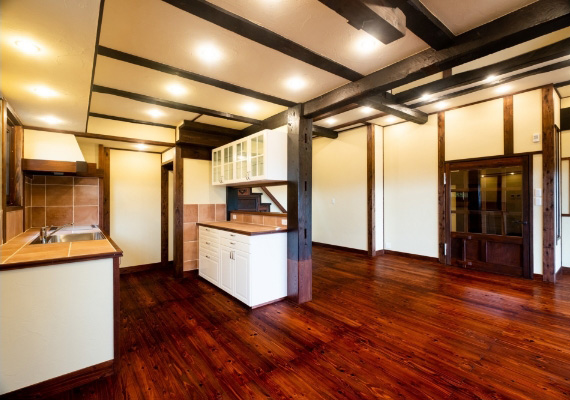 Free Space
About 41,2m2 space with a living-cum-dining room plus kitchen.
How about setting up a wood stove and a sofa, and be satisfied with sunlight coming through large southern window and wonderful views?
There is a large space at southern outside of the house, so it is possible to open a small restaurant or a café if you like.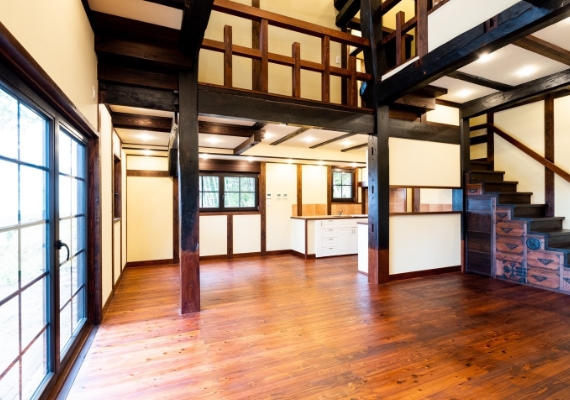 Floor Heating
Almost the whole first floor has floor heating. You are able to live a heart-warming life at this house, thanks to the wooden warmth which engulfs you like someone to cuddle with.
If you use a wood stove, wearing only T-shirt would be enough to stay and spend time at the house even in winter.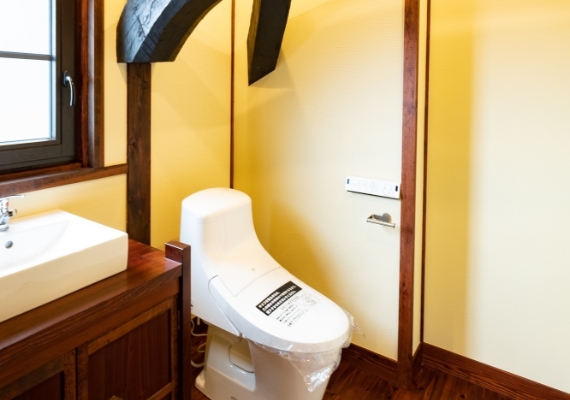 Toilet
A toilet for first floor is just on your right side at the entrance.
For second floor is next to a bath and a washroom.
You would be attracted by a unique curved wooden beam which has great presence on the wide ceiling.
Some wooden doors used at the former house were reused for a door at entrance and a sliding door for washbasin. Craftsman's playfulness made some carved flowers be in bloom on the wall of toilet.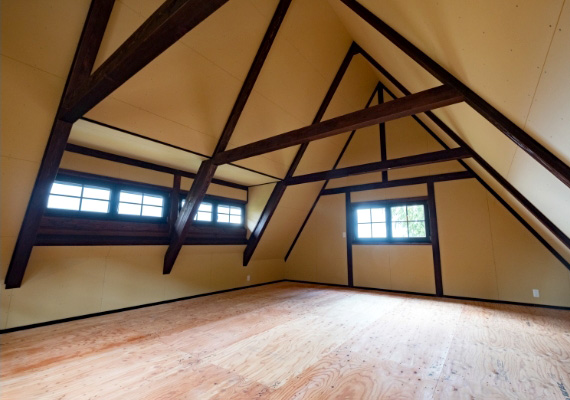 Loft
About 33m2 one room without any pillar. This space was left for occupants to be able to design whatever they like.
The loft can be used for children's rooms using a partition, or it is possible to design an attic because of the high ceiling. Furthermore, a water pipe and a drainpipe are available at north west of the room, so you can make small kitchen or toilet.
Why don't you finish reviving this house completely by your own designed loft!!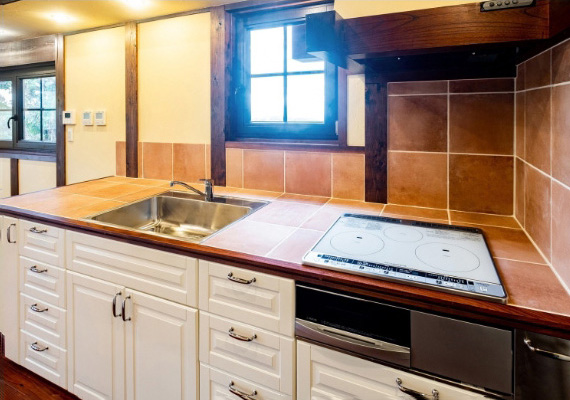 Kitchen
The kitchen is fusion of Italian made tiles and a Sweden made fully fitted kitchen. Not only the floor heating, a window to be able to see outside sceneries is equipped as well.
Please cook home-made vegetables and edible wild plants, then have a luxurious time which money cannot buy.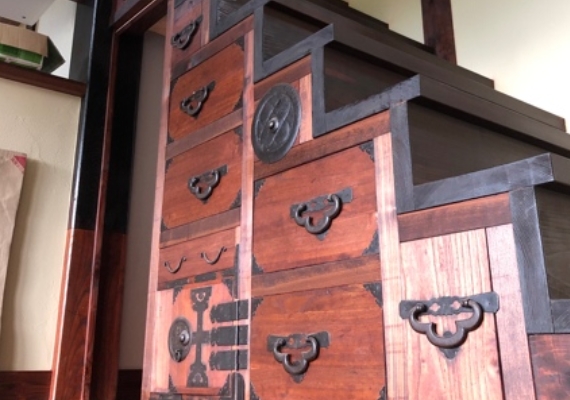 Stairs & Chest
Japanese traditional chest was utilized for making a storage space under the stairs.
Making the drawers was not on the blueprint, they were created by craftsman's playfulness. However, those drawers were perfectly blended with an ambience of the house. Craftsmen made full use of the good old wooden doors and a door of Japanese traditional storehouse at everywhere in the process of renovating this house.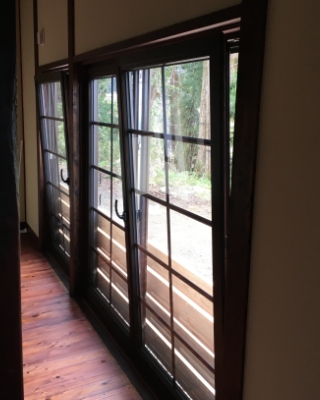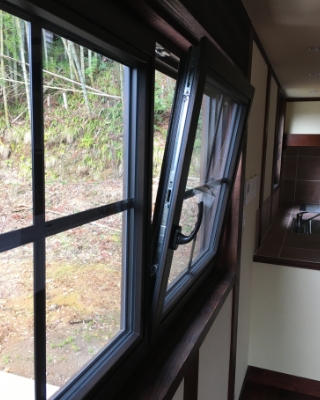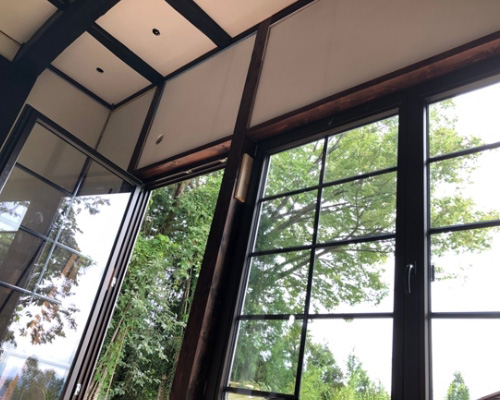 German made windows are good at insulation and ventilation
The windows can be open from above, so that there is no worry about security.
Since the tilt windows are able to open inward as well, you can feel free to ventilate whenever you want.
Moreover, those windows have high level of airtightness and insulation: they do not release heat even in cold winter.
---

---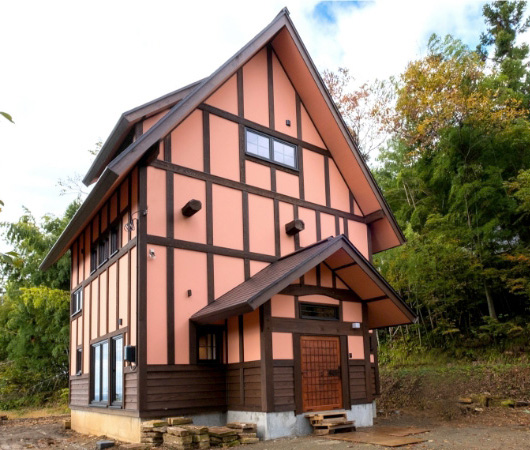 Kael Bengs House "INABA"
Date of construction
Octover 2019
Building area
1st floor:53.9m2 
2nd floor:39.3m2 
loft:39.2m2 
Total area:132.4m2
Land area
311.44m2
House layout
2LDK
Specification
Ground investigation has conducted / Parking space for three cars / Face to face fully fitted kitchen / Double lazing / Warm water washing toilet seat / Windows at bathroom / Water saving type toilet / All living rooms have wood flooring
---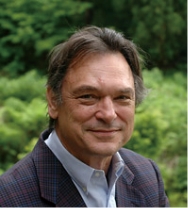 Karl Bengs
Architectural designer
When I first arrived to Japan, it was the beginning of the second wave of high economic growth. Wooden buildings lined the streets of Ginza and I felt the "old-fashioned" Japanese aura everywhere. But as Japan's economy prospered, buildings were made in conformity to the modern lifestyle, and the landscape changed drastically. Wherever I went, I could find neither the unique culture of an area nor the aura of life. The landscapes had become expressionless.
Higashiyama Kaii gave me the words, "A town without old buildings is the same as a person without memories." If something is old, it is not worthless. Old things are filled with history and memories, and they are more than just things.
With the rise of mass production and disposable items, the Japanese may be forgetting to take care of their everyday things. It is sad to see what is becoming of such impressive culture that Japan had continued until recently. I wish to tell future generations about this fabulous culture through my works.
Minka revival is not just about rebuilding a house. I believe that Minka revival will provide an opportunity for us to review and reconsider the sense of value that arises from Japan's current "scrap and build" culture.


The Charms of
Shimomaki Village The place to be able to appriciate the true beauty of the four seasons
You can see clearly different sceneries in Shimomaki-village season to season. Ripening rice plants in rice field, the mountains turning red day by day and the ground covered all over with snow. There is no exaggeration to say that scenaries of each season in Shimomaki-village is the best in the world.
The inhabitants of Shimomaki-village used to run teahouse for climbers of Mt. Yoneyama which is famous as one of the three major pharmacist montains in Japan
A lofty mountain at the back is Mt. Yoneyama: it is 993 meters above sea level, so you can climb to its top for only about one and half hours. Around 20 thousand climbers visit the mountain per year from inside and outside the Niigata prefecture. This Shimomaki-village has been prospered through running teahouse for visitors at the foot of Mt. Yoneyama. The spring water which flows into field and rice field at here is very pure and clear, because it is completely free from any household effluents which usually come from other village or town. Therefore, the crops and vegetables made with the water are amazingly tasty.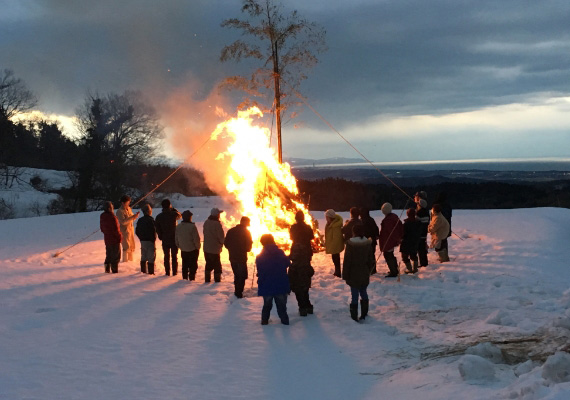 Winter is the best of all
There is snow everywhere in winter. A silent winter night indicates that snow falls so quietly. The ground coverd with shining flesh snow is as if it was a huge jeweled carpet.
You can spend much time for your hobby during winter, for instance winter sports and a hunting. Recently, the nunmber of wild animals such as raccoon dog and wild boar is increasing instead of declining population. You are able to enjoy the ski area where no one have skied, if you go sking from early morning.
Generally, people expect to be exhausted everyday by clearing snow away, but the thought is totally old-fashioned. Nowadays the function of a snowblower and a snowplow have improved a lot compared with the past, so that removing snow from the road is perfect every morning. Futhermore, you do not have to worry about the snow around the Karl Bengs house at all.
Japanese original landscape
Where Shimomaki-village locates is about 250 meters above sea level, so you can look down on the earth. You can get all of wonderful scenaries to yourself, for instance the mountains in Myoko, Kubiki plain, the setting sun over the Sea of Japan. Moreover, those scenaries change day by day, so they do not let you lose interest while you live surrounded by nature.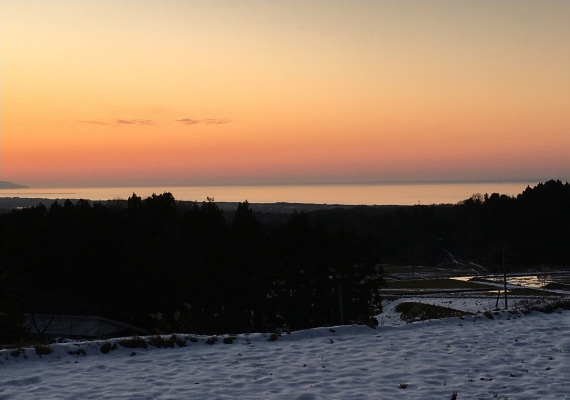 Super J Niigata 2019.10.30 on air
CONTACT
Please contact us about the Karl Bengs house freely.
You can also call us by phone.
TEL.080-5474-7124
Owner / Kazuhiko Nakamura