The client of the builder
The leader of Shimomaki-village community
Kazuhiko Nakamura
The building materials used for renovating the "Kominka" by Karl Bengs have experienced three times of rebuilding including this time. Originally, those materials were used as a construction of the house which a village headman in the Edo period lived. When he rebuilt his house around 100 years ago, someone inherited those old materials and built new house at where Karl Bengs house is now. Thanks to Karl Bengs's cooperation, the house was rebuilt again at this time. In short, the building materials used for constructing the house were estimated about 200 years old.
These days, most of the modern houses are rebuilt after around 30 or 40 years passed since they have been built. However, this Karl Bengs house is anticipated that residents can live for next a couple hundred years. Thus, many things are equipped, for example, German made wooden frame window and floor heating, etc.
About 20 families used to live in Shimomaki-village 50 years ago: it was when I was a child, but now there are only 4 houses. What is worse, the people who live in most of the houses are all older than 60 years old except for my house. The situation of Shimomaki-village is obviously lack of people: I have been serving as the leader of this community for 6 years. At the most, the snow lies about 2 meters deep on the ground. Unfortunately, the people who had experienced bad situation of removing snow made their new house and left to lower town than here.
You might expect that slow living is in a deep forest where is not convenient, but Shimomaki-village is actually favored by surrounding environment. It takes only 15 minutes driving to go to the large grocery store, an interchange of the expressway, a station where limited express train stops, the Sea of Japan, etc. Moreover, you can look down on the Sea of Japan, Kubiki plain and mountains in Myoko from the front of the house. The nearest ski resort from the house is Cupid Valley, it takes only 45 minutes driving till get there. The snow removal system has improved a lot until today, so it never happens that you cannot go out because of too much snow.
There are many unique farmers in Mizuno-village just next to Shimomaki. Not only just rice growing, they make soba and rice cake, and work on the culture of rock fish too.
Why don't you create another community with us being surrounded by rich nature? I will support everything about your living with responsibility. First of all, please visit us! I'm looking forward to meeting you one day!

Is there school near the house?
An elementally school is about 7km away. A junior high school is 10km away. School bas will drive children to and from those both schools, so it is much safer than attending the school from downtown by walking.
Is there hospital near the house?
A health clinic is 3km away, it is very convenient. A general hospital is 10km away.
How about supermarket and convenience store?
A small store which called "Maruka" is 3km away, you can buy most of the things at there. Sliced raw fish sold at the store is especially delicious! A large grossly store and convenience stores are10km away.
Is cellphone available?
You cannot use "Softbank" style line, but "docomo" and "au" style lines are perfectly available.
How about public transportation?
The number of buses running in the area is small: if any, only a few per day. Thus, car is a must thing as a means of transportation. You'd better have 4WD car, because of much snow in winter.
How about internet environment?
Optical fiber was set up, and users are only a couple, so internet connection is amazingly good without any lagging.
How about the situation of snow? Is it hard to remove snow?
At the most, the snow lies about 2 meters deep on the ground, but I did not have to remove snow even one time in 2020. The Karl Bengs house does not need to shovel the snow off its roof. If you have a snowplow, it would be enough to remove all snow around the house. Maybe removing snow is not too hard than your expectation, so you might find the pleasure in doing it.
Can you rent the land for a vegetable garden?
Unused lands are everywhere, so you can rent a land as large as you want at a surprisingly low price.
Please feel free to tell me anything if you have a trouble.
I will do my best to support you.

We want to create a village with abundant nature and a comfortable living environment. Let's create it.


This house was built of old wooden materials; they used to be a construction of the house where a village headman in the Edo period lived. Thus, those building materials have experienced three times of rebuilding including this time. The material itself is estimated about 200 years old. Thanks to the polished skills of Karl Bengs and craftsmen, the former old house turned into new one which can maintain for a large number of generations.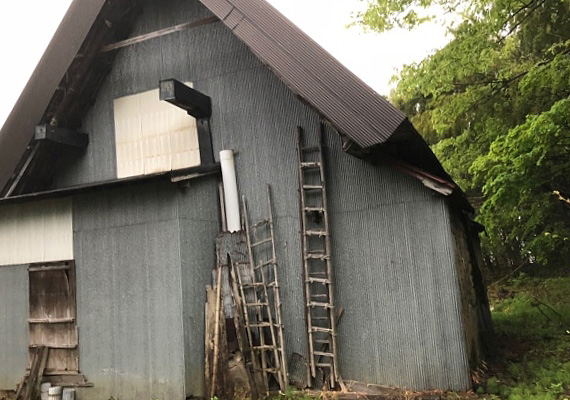 This is an appearance of about 100 years old house before start renovating. The house used to have a thatched roof long time ago, but a tin roof was introduced later because of a difficulty in getting plants for thatching.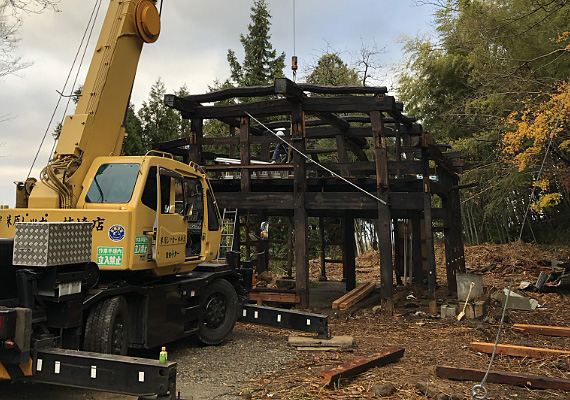 Craftsmen demolished the former house so carefully; they lifted wooden beams and pillars by a crane car one by one. At the same time, to make full use of every old wooden materials, they noted down many data; its length, where it was located, condition of decay, etc. The former house was built using Japanese traditional architectural technique which combines tree to tree without using even a nail. Amazingly, the technique still exists in new house.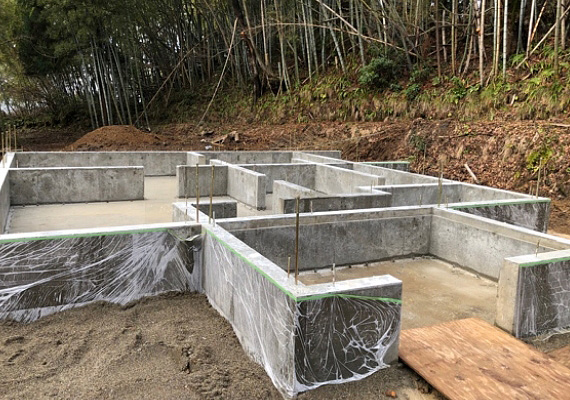 To maintain the house for next 100 and 200 years, its foundation was designed higher than usual. The former house used to be just on the rocks, but the foundation of the house and pillars are connected firmly now. In addition, new foundation is much stronger against earthquake and damp than usual one.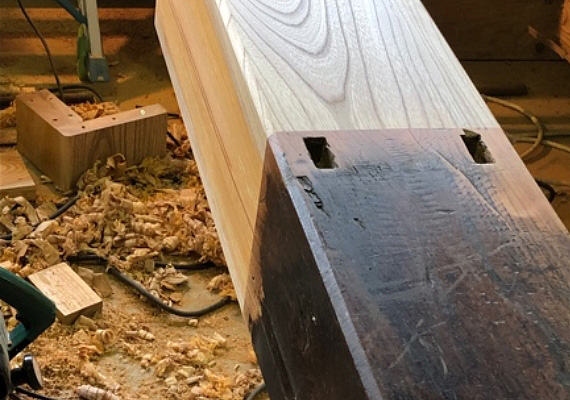 About 200 years old zelkova thick pillars had some decayed parts, so craftsmen got rid of those parts and link them to the new wood. This was exactly fusion of ancient and modern times.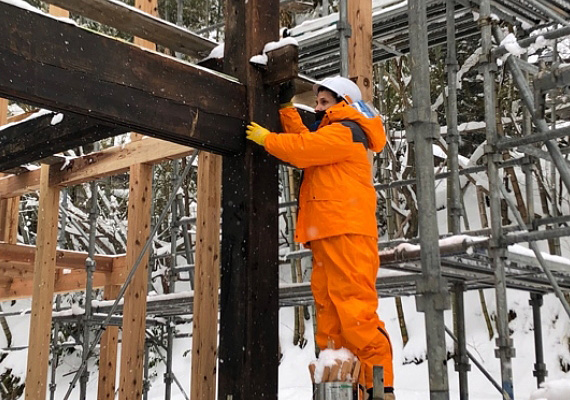 In snowy winter, washed and polished old wooden materials were assembled one by one carefully. Most of old materials were curved and did not fit to new building materials well, so craftsmen had to plane them many times to make a slight adjustment. Therefore, it took 5 times more time than usual for only finishing the framework of a house.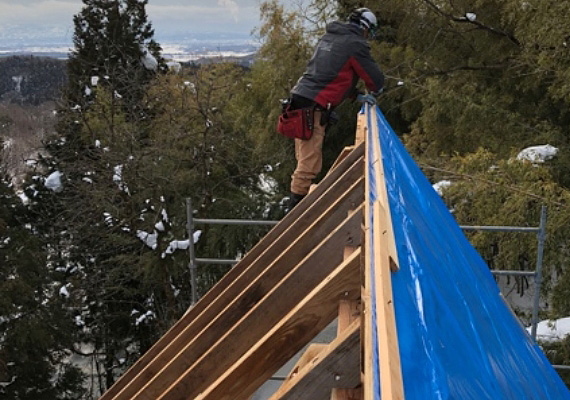 The view from a characteristic steep rafter and triangular roof top (10 meters high) is wonderful. On the other hand, the steep pitch scared craftsmen to work at there.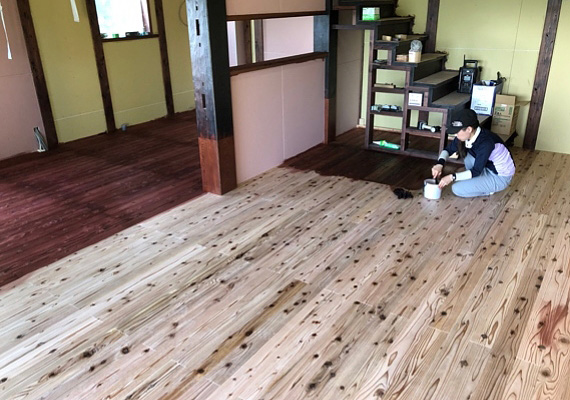 Karl Bengs put all-natural paint a couple of times on some pillars and the floor which were made of new wood (local Niigata wood). The special paint (a company secret) made new wooden building materials subdued and calm color.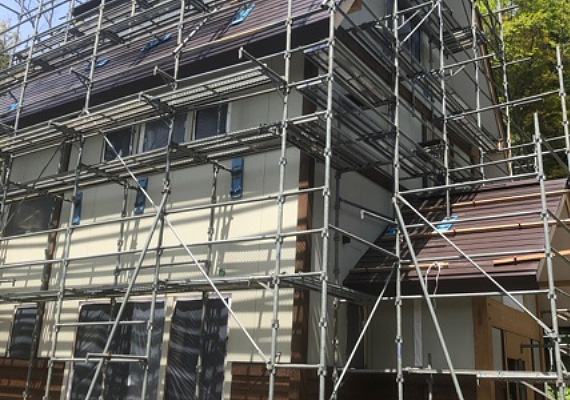 The earthquake-resistant panels were used for outer walls, and it is good at insulation too. The frame of a house is bare intentionally. A traditional Niigata technique was introduced to a lower part of outer wall made of Japanese cedar. Those outer appearances made the whole shape of house looking cool and beautiful. Diatomaceous earth was used for inside wall and a ceiling, so that some effects can be expected such as controlling humidity, deodorization and fireproof.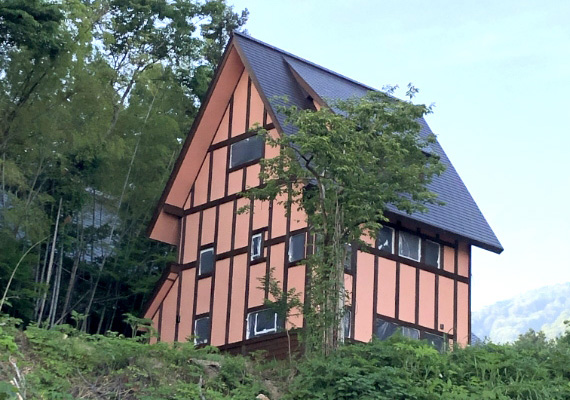 Finally, German made windows arrived by shipping. All process of renovating the house was completed with painting outer walls stunning salmon pink.
CONTACT
Please contact us about the Karl Bengs house freely.
You can also call us by phone.
TEL.080-5474-7124
Owner / Kazuhiko Nakamura